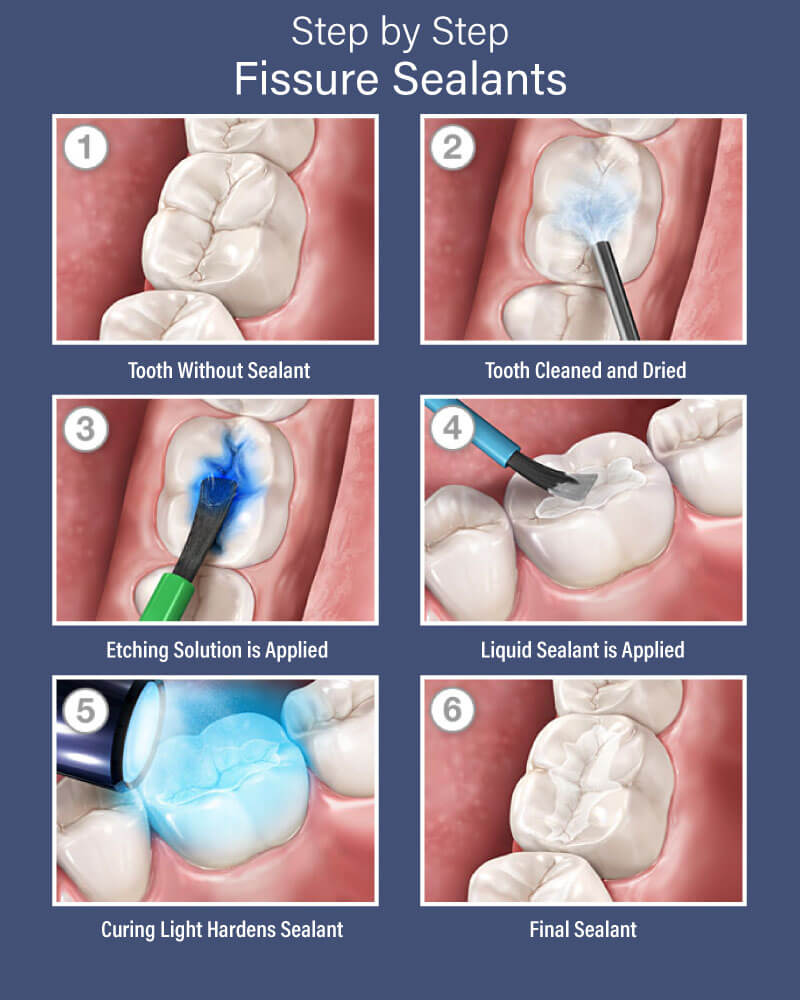 Sometimes brushing is not enough. Everyone has hard-to-reach spots in their mouth and brushing doesn't always fully clean those difficult places. When that happens, you are at risk of tooth decay. Using sealants on your teeth gives you an extra line of defense against tooth decay. Despite many advances in adult and pediatric dentistry, there still is not a better preventive treatment used in modern dental care.
Dental sealant is a plastic resin that bonds to the deep grooves in your tooth's chewing surface. When sealing a tooth, the grooves of your teeth are filled and the tooth surface becomes smoother — and less likely to harbor plaque. With sealants, tooth brushing becomes easier and more effective against tooth decay.
Sealants are usually applied to children's teeth as a preventative measure during the years of most likely tooth decay. However, adults' teeth can also be sealed. It is more common to seal "permanent" teeth rather than "baby" teeth, but every person has unique needs. Dr. Covington will recommend sealants on a case-by-case basis.
Sealants generally last from 3 to 5 years. However, it is fairly common to see adults with sealants still intact from their childhood. A dental sealant only provides protection when it is fully intact so if your sealant comes off you must let Dr. Covington know.
What do sealants involve?
Sealants are easily applied by Dr. Covingon or our dental hygienist, and the process takes only a couple of minutes per tooth.
The teeth to be sealed are thoroughly cleaned and then surrounded with cotton to keep the area dry. A special solution is applied to the enamel surface to help the sealant bond to the teeth. The teeth are then rinsed and dried.  Sealant material is carefully painted onto the enamel surface to cover the deep grooves or depressions. Depending on the type of sealant used, the material will either harden automatically or with a special curing light.
Proper home care, a balanced diet, and regular dental visits will aid in the life of your new sealants.
Why can't I just brush and floss?
While brushing and flossing help to remove food particles and plaque from smooth surfaces of teeth, toothbrush bristles often can't reach into the teeth's depressions and grooves. Sealants protect those areas and prevent food and bacteria from getting in.
Aren't sealants just for kids?
Decay can begin early in life, so dentists usually apply sealants to children's and teenagers' premolars and molars to protect them. But sealants can protect adults' teeth, too. Ask Dr. Covington about sealants for your children or for yourself to see if they would be beneficial.
How long do they last?
As long as the sealant remains intact, the tooth surface will be protected from decay. Sealants hold up well under the force of normal chewing and usually last several years before a reapplication is needed. The risk of decay decreases significantly after sealant application. During your regular dental visits, Dr. Covington will check the condition of the sealants and reapply them when necessary.
Are sealants safe?
Sealants are extremely safe, though some people may have an allergic reaction to the plastic. Talk to a member of our Beaufort dentist office if you or your children have allergies so that she can provide the best treatment options.
Will my insurance pay for sealants?
Dental insurance usually will pay for sealants for children's and teenagers' permanent molars. If Dr. Covington suggests sealants for other teeth, he or she will tell you whether or not the costs will be covered. Be sure to check with your dental insurance company about your insurance plan as coverage may vary.
Schedule an Appointment
We welcome new patients and look forward to helping you achieve the optimal oral health.  To schedule an appointment in our Lady's Island dentist office, contact us at (843) 986-0177 or feel free to use our online appointment form.