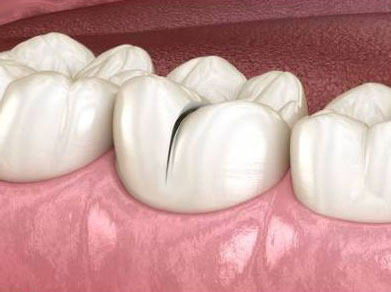 You may suspect you have a cracked tooth if you experience sharp pain when biting which quickly disappears. Cracked teeth are relatively common and a generally a by-product of having fillings as well as bruxism, or night-time teeth grinding.
Amalgam fillings are notorious for causing the right conditions for crack development in teeth. Because amalgam has a property called dynamic creep, every time pressure is applied to the top of the filling, it deforms slightly by pushing outwards against the walls of the tooth which contains it. After enough time, cracks can form in the tooth structure, eventually leading to the loss of a portion of the tooth or in the worst case, a complete split.
Bruxism provides intense forces which can cause hairline cracks to form and then develop to become significant, tooth-threatening fractures. Unfilled teeth can crack under repeated teeth grinding stresses, but generally speaking, filled teeth are at a greater risk: The continuity of the tooth in interrupted by the filling, making it more susceptible to fracturing. Teeth that have had root canal treatment fracture at a higher rate than living teeth, because they lose their flexibility. Without its active blood supply, the tooth becomes more brittle. A good analogy is a dead stick compared with a green stick- one snaps while the other bends.
Inside our teeth is a dense network of nerves and blood vessels known as the pulp. When the pulp is irritated it can make our teeth one of the most sensitive parts of our body. This sensitivity means we may experience pain as a symptom of a cracked tooth.
A cracked tooth can be serious business. Ignoring the symptoms of a cracked tooth can lead to further dental problems down the road, including infection and even tooth loss.
Reasons Teeth Crack
Just like a chipped tooth, there are several reasons teeth crack.  A strong tooth sometimes cracks because of an accident or a blow to the mouth.  But more often than not, a tooth is weakened first before it eventually cracks.
As you age, your teeth weaken from the daily forces of chewing, biting, and grinding.  In some cases, you might not even realize the exact moment in which your weakened tooth finally cracks.
Types of Cracked Teeth
There are actually several distinct types of cracked teeth. The way your dentist addresses your cracked tooth depends on which type of crack you have, its location in your mouth, and its severity.  Here are the five types of cracked teeth:
Craze lines. These are super-small cracks in the enamel (the strong outer covering) of teeth. They cause no pain and don't require any treatment.
Fractured cusp. This kind of crack generally occurs around a dental filling. It usually doesn't affect the pulp of the tooth (the soft center of the tooth where nerves, connective tissue, and blood vessels are) and as a result doesn't cause much pain.
Cracks that extend into the gum line. A tooth that has a vertical crack that extends through it but hasn't yet reached the gum line is generally savable. However, if the crack extends into the gum line, that tooth may need to be extracted. Prompt treatment offers the best chance of saving the tooth.
Split tooth. This is a tooth with a crack that travels from its surface to below the gum line. It can actually be separated into two segments. With such an extensive crack, it's unlikely the entire tooth can be saved, but your dentist may be able to save a portion of it.
Vertical root fracture. This type of crack begins below the gum line and travels upward. It often doesn't produce much in the way of symptoms, unless the tooth becomes infected. Chances are the tooth will have to be extracted.
Symptoms of a cracked tooth
Not every cracked tooth will produce symptoms. But when it does, common ones include:
pain when chewing or biting, especially when you release the bite
sensitivity to heat, cold, or sweetness
pain that comes and goes, but is rarely continuous
swelling of the gum around the affected tooth
Diagnosing a Cracked Tooth
It can be frustratingly difficult to locate and diagnose a cracked tooth.  This is because cracked teeth may not be visible during a dental exam or show up on an x-ray.  It also turns out that our brain is bad at locating the exact source of tooth pain within our mouth.  Is the pain coming from the top teeth or the bottom teeth?  Sometimes the brain just doesn't know.  As a result, cracked teeth can be confused with sinus pain, headaches or earaches.
To pinpoint the location of a cracked tooth, your dentist will have you bite down on a small item like a plastic stick or a wood dowel, one tooth at a time.  He or she may also place a light directly on your tooth or use dark-colored dye to highlight fracture lines.
Treatment of a Cracked Tooth
Treating a symptomatic cracked tooth as soon as possible improves the chances of saving the tooth. Even if the crack in your tooth is small, it can expand with the pressure of biting and eating, eventually turning from a cracked tooth to a split tooth. If the crack in your tooth becomes large enough, it could become vulnerable to decay. If untreated, tooth decay can spread to the pulp and cause a larger infection, eventually leading to a dead tooth or even tooth loss.
Treatment depends on the size of the crack, where it's located, your symptoms, and whether the crack extends into the gum line. Depending on those factors, your dentist may recommend one of the following:
Bonding
With dental bonding, your doctor uses a plastic resin to fill the crack, restoring its look and function.
Crown
A dental crown is a prosthetic device usually made of porcelain or ceramic. It fits over the damaged tooth or caps it.
To fit a crown, your dentist first shaves off some enamel from your tooth to make room for the crown in your mouth. They then make an impression of the tooth, pick out a color that matches your teeth, and send the impression off to a dental lab to make the crown.
This process may take a couple of weeks. When the crown returns, your dentist fits and cements it over your cracked tooth.
With advances in technology, some dentists can mill a porcelain crown right in the office and place it that day.
With proper care, a crown can last a lifetime.
Root canal
When a crack is so extensive it extends into the pulp, your dentist, or a specialist such as an oral surgeon or endodontist, will recommend a root canal to remove damaged pulp and restore some integrity to the tooth. This procedure can prevent the tooth from becoming infected or weakening further.
Extraction
When the structure of the tooth, and the nerves and roots that lie below it, are very damaged, removing the tooth maybe your only option.
No treatment
Many people have tiny, hairline cracks in the enamel of their teeth. If these cracks don't affect appearance and don't produce pain, your doctor may advise leaving them alone.
How your Beaufort dentist repairs your cracked tooth depends on the location and type of crack. Some don't need repair, some might require filling the crack or place a crown over the tooth to protect it from further damage.
If a tooth splits, your dentist will need to remove part of the tooth and repair it with bonding, an onlay or a crown. If the split is severe, the tooth will need to be extracted.
Since there is a range of severity for cracked teeth, the best thing to do is call your dentist right away if you feel pain or suspect a cracked tooth. And of course, maintaining your healthy smile with twice annual oral exams can help your dentist diagnose a problematic crack before it becomes unmanageable.
The Takeaway
A cracked tooth is a common experience for many. A variety of procedures are available to save the tooth and your appearance.
While a crack can be repaired, a cracked tooth will never be 100 percent healed, unlike a broken bone might be. But prompt treatment offers the best chance of saving your tooth and preventing infection and further damage. And while your mouth may be sore after the treatment, the pain should subside in a few days.
Good dental hygiene, avoiding hard foods, and wearing a mouth guard if you grind your teeth or play contact sports will go far in protecting your smile.
Schedule An Appointment
If you are experiencing dental problems related to a cracked tooth, be sure to contact our Lady's Island dental office. Drs. Covington or DuRant can work with you to develop a solution to help alleviate your symptoms and restore function to your smile. To schedule an appointment, call (843) 986-0177 or request an appointment online.